EYFS
Bandon Hill's EYFS Statement
Intent:
At Bandon Hill our aim is to create a learning environment and build relationships which support, enhance and invite a child's curiosity, confidence and individuality to flourish regardless of backgrounds, circumstances or needs. We aim to work collaboratively with parents and carers to encourage independent, enthusiastic learners who thrive and reach their full potential. It is our intent that children who enter our EYFS begin their lifelong learning journey whilst developing a love of learning through fun, exciting experiences that create memories.
To ensure children thrive at Bandon Hill, it is our intent to take into consideration their starting points and needs of our pupils as they begin their learning journey. We visit each child's home when they start with us, this allows us to develop important relationships with our families, which support the transition to school and helps us to learn more about each pupil. This information includes their personal interests and past experiences, this allows us to develop our broad, balanced and differentiated curriculum, in which we follow personal interests and individual needs to provide opportunities for new experiences throughout our EYFS curriculum. At Bandon Hill we understand that starting school is an important milestone for all, therefore we endeavour to make sure that the memories children hold of starting school with us are happy, positive and ones to cherish.
At Bandon Hill we follow the Early Years Foundation Stage framework. This is made up of four overriding principles which our EYFS education is based upon:
Unique Child – Every child is unique child who is constantly learning and can be resilient, capable, confident and self-assured.
Positive Relationships – Children learn to be strong and independent through positive relationships.
Enabling Environments – Children learn and develop well in enabling environments, in which their experiences respond to their individual needs and there is a strong partnership between practitioners and parents and carers.
Learning and Development – Children develop and learn in different ways. The framework covers the education and care of all children in early year's provision, including children with special educational needs and disabilities.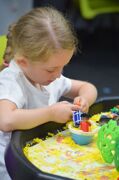 Implementation
The curriculum provides a play-based and engaging learning environment, combined with focussed teaching, to ensure children are ready for Year 1. The children in both Nursery and Reception are provided with ample opportunities accessible in our indoor and outdoor provision. They engage in planned, focussed activities as well as self-initiated activities. Each area of learning a Bandon Hill has been designed carefully to support independence and self-selection. This has been done ensuring our resources are easily accessible for all and there are resources that challenge and motivate pupils to take risks with their learning,
The learning experiences within our Early Years are linked to the seven areas of learning and development within the EYFS. These areas are split into three prime areas and four specific areas. All areas of learning and development are important and inter-connected.
The 3 Prime areas are particularly important for building a foundation for igniting children's curiosity and enthusiasm for learning, forming relationships and thriving.
Prime Areas:
Personal, Social and Emotional
Communication and Language
Physical Development
The 4 specific areas are:
Literacy
Mathematics
Understanding the World
Expressive Arts and Design
Children benefit from meaningful learning across the curriculum and staff plan resourcefully for opportunities for communication, sustained shared thinking and challenge to build on existing skills taking into account the Characteristics of Effective Learning.
We endeavour to provide rich first hand experiences (inside, outdoors, visitors and school trips) to widen experiences and develop a sense of awe and wonderment. Exploratory learning and thinking creatively including problem solving is accessible across all areas of learning. New vocabulary is developed through reading that will excite and engage all learners which includes staff modelling, reading sessions that take place 3 times a week and activities such as poetry basket that ignite and engage a love of language.
Our curriculum will promote and support children's emotional security and development of their character enabling children to take risks in a safe and secure environment.
We use learning journals across the EYFS, alongside focus activity books, which evidence to the children and their families the successes of the children throughout their time in their Early Years, as well as supporting professional discussions about pupil's progress. Although these journals are important we ensure that we only 'remark on the remarkable', this ensures that time is not taken away from meaningful moments with the children to complete them.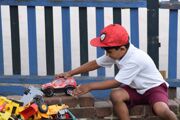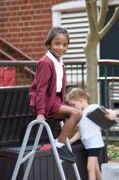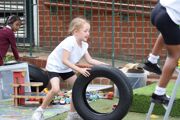 Impact:
Assessment starts with careful observations which are then used to inform planning. Learning and teaching is thus effective when children feel a sense of belonging, curiosity and competence showing resilience and tenacity.The impact of our EYFS curriculum is reflected in the progress that the children make against their starting points, checkpoints throughout year and against the ELG in the Reception's summer term. These checkpoint judgements are completed as a team including all professionals working directly with the pupil. If we find that pupils are not progressing as expected we have an open dialogue with parents and run effective interventions. By monitoring assessment procedures regularly, we can effectively demonstrate what learning is taking place and how each child is progressing in all seven areas of the EYFS curriculum. The children at Bandon Hill experience a smooth transition between Nursery, Reception and beyond. Effective communication and collaboration ensure the children leave the EYFS with a solid foundation of learning of which to build upon.
Teaching and pedagogy are reviewed upon reflection of current EYFS practices, CPD courses and cohort needs. EYFS planning and the learning environment are changed as per the result of any actions needed, our EYFS team continually inspire to improve their practices and environment to ensure that we are providing every child the best opportunity to reach their full potential and develop a love for learning.
GLT – EYFS document
Greenshaw Learning Trust Early Years Vision
We are committed to providing the best possible early education for all our children in Greenshaw Learning Trust.
The unique child
We want our children to be independent thinkers and effective communicators who are capable, confident and self-assured. We want our children to be constantly developing their curiosity and resilience whilst learning to be strong through positive relationships where there is equality of opportunity for all.
Enabling environments
We believe in providing all children with a safe and stimulating environment that builds on each individual's wants, needs and interests.We value the importance of our outdoor and indoor environments and believe that these offer children the opportunity to think creatively and critically and develop problem solving skills.
Learning and development
Our children have the opportunity to learn through play. Learning will be active, engaging and suitably challenging; recognising that children develop and learn at different rates.
Adults provide high quality interactions, are role models for learning, teach children skills and provide experiences which ensure their well-being and success now and in the future. Fundamental to this is consistently high quality learning opportunities that develop a rich vocabulary, practise and review skills and knowledge so that what children know, can remember and do is strong. Our children benefit from strong partnerships between all adults and parents/carers.
Characteristics of Effective Teaching and Learning
Through playing and exploring we want children to be given opportunities to investigate activities with a 'have a go' attitude. We expect learning to be active and encourage children to use their own ideas and make links within their learning by creating and thinking critically.